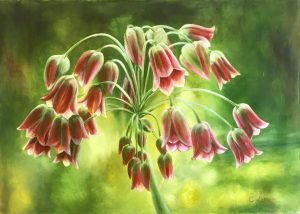 Bells of Life

Oil on canvas
60cm x 40cm
Artwork ~ Available ~ Still Life ~
Allium 'Summer Bells' (allium bulgarium)
This painting was a challenge to achieve but my motive to make it is to bring hope, joy and life in a time of pressure on our society.


R 8000
Would you like to buy this painting?
Please fill in form below, we'll be in touch to confirm availability and payment / shipping details.
We welcome international enquiries.